FREE SHIPPING ALWAYS | CANCEL ANYTIME
For a limited time only, get our premium Signature Collection at the Farm Fresh price on your next renewal.
CONFIRM YOUR UPGRADE
For your next subscription renewal in August, confirm that you want a free upgrade from our Farm Fresh Collection to our premium Signature Collection.
UPGRADE FOR FREE, ON US

We'll cover the cost difference when you upgrade for free. That means you'll pay the Farm Fresh Collection cost and enjoy our Signature Collection blooms.
STAY IN BLOOM W/ SIGNATURE
Upon your following renewal in the month of September(2021), you'll continue to receive our high-end Signature Collection at the regular price.
We know you love your pretty petals, so why not boost your blooms? It's free for a limited time so you can try our Luxury Collection. After the end of your term, we'll automatically renew you for our Signature Collection at regular price to keep the joy coming.
From sustainable farms to your front door, you'll enjoy more stems (25-30) than our Farm Fresh subscription. This collection blossoms with our most high-end flowers including garden roses, hydrangeas, lilies, and CHARMELIA®.​ Enjoy premium bouquets featuring luxury designs and our finest flowers.
12 month Subscription
$601.80    $499.80
​* This offer applies only to Farm Fresh regular subscriptions. You will receive a free upgrade on all deliveries (of the following term only). Upon renewal, the free upgrade will no longer apply. At the end of term, you will automatically be renewed for our Signature Collection at full price. Offer valid through 8/23. Please email customerservice@enjoyflowers.com for additional questions.​
MORE REASONS TO ENJOY OUR FLOWERS

FREE Shipping
Contiguous US states

Cancel Anytime
No Long-Term Contract

Last 2x longer
Arrive 4 days after gathered

FREE Shipping
Contiguous US states

Cancel Anytime
No Long-Term Contract

Last 2x longer
Arrive 4 days after gathered

Sustainable
Farm-to-front-door model

Surprise Design
& unique varieties every month

7 Day Guarantee
Or we'll replace them

Sustainable
Farm-to-front-door model

Surprise Design
& unique varieties every month

7 Day Guarantee
Or we'll replace them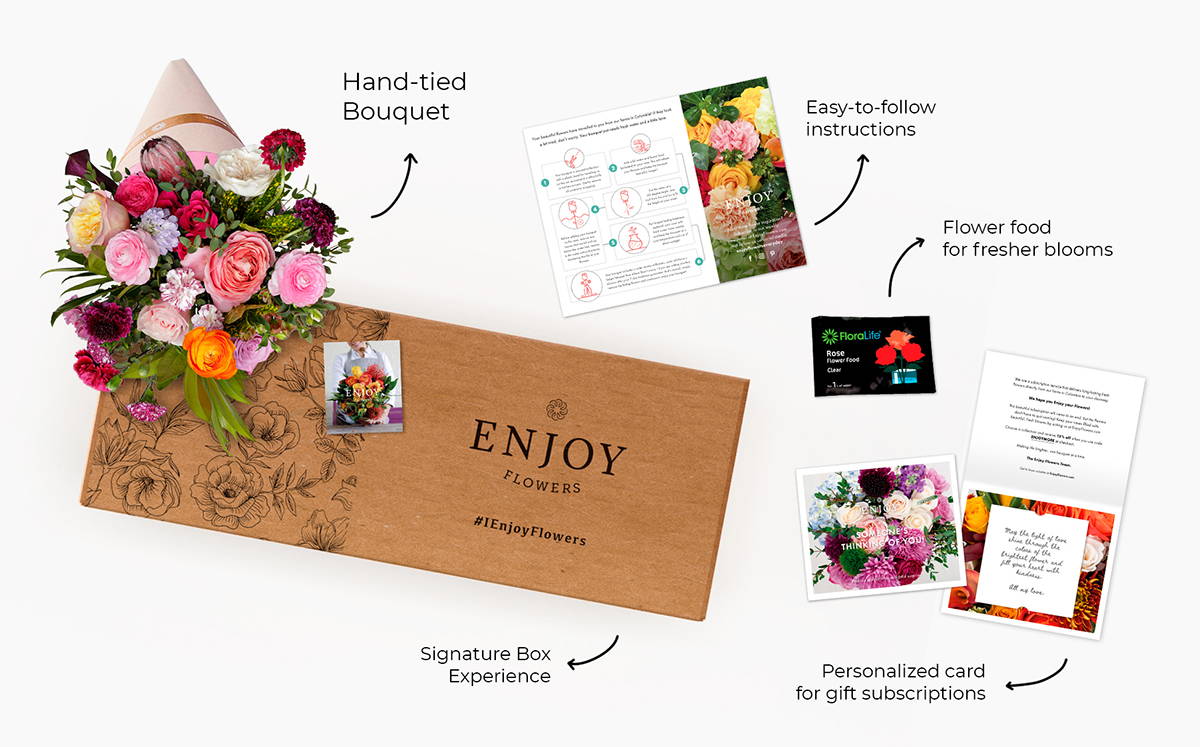 What our customers are saying…
50 Years of Flower Farming